by Angela Murphy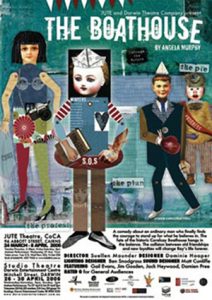 The Boathouse is Angela's debut play, produced by the JUTE Theatre, Cairns and the Darwin Theatre Company, in 2006.
The play is a comedy about an ordinary man who stands up for what he believes in, but not without a cost. In the small town of Coralcay, the century-old Boathouse is earmarked for destruction to make way for another high-rise, and local teacher Ray Smallwood is spurred into action to save the historic building.
It's a decision that effects both Ray's marriage and his maturity as a man, as collisions between old friendships and new loyalties arise. Saving the Boathouse becomes Ray's watershed.
Season photos
Reviews
Angela Murphy has a style reminiscent of David Williamson's. Like Williamson, she makes occasional use of poetic dialogue to lift the play out of the mundane; like him, she uses witty one-liners to relieve tension and create a comic undertone to a serious topic; like him, she strips away her characters' pretensions, leaving them as emotionally and socially stranded misfits." Arts Nexus